A little bit of local history and trivia for your journey to the event!
Approaching from the south, you'll notice Mount Famine and South Head, two pointed hills across the A624 from Chinley Churn. Mount Famine got its name after the Enclosure Act, as much of the higher land there was unsuitable for farming. It rises to 473 metres, just a little higher than Chinley Churn at 451 metres
All traffic approaches via the village of Hayfield, the starting point for the mass trespass, in April 1932, onto Kinder Scout. About 500 men and women took part, to protest that walkers in England and Wales had no right of access to open country. Although five protesters were jailed for 2–6 months, another trespass was organised three weeks later at nearby Castleton, in which 10000 took part. Eventually this resulted in the National Parks and Access to the Countryside Act of 1949, with the designation in 1951 of the Peak District National Park as the very first!
Read more about the Kinder Trespass here.
Hayfield was the birth place in 1915 of Arthur Lowe, most known for playing the part of the "pompous and bumbling" Captain Mainwaring in Dad's Army (BBC1, 1968–77). His father – also Arthur – oversaw rail transport for theatrical touring companies in the Midlands and North. There is a Blue Plaque on the wall his former home on Kinder Road, to the east of the A624. A lesser known role for Arthur Lowe was as the voice of the Mr Men!
More about Arthur Lowe's career here.
In 2012, Hayfield was the location for The Village, the BBC Sunday evening drama staring John Simm and Maxine Peake. The plot centred on the interplay between the Middletons, a farming family, and the Allinghams at the Big House, during the early years of the twentieth century. Details about the locations are here.
On the walk to the start, you should be able to see Kinder Reservoir, begun in 1903 and completed in 1912. Half way between the reservoir and Kinder Plateau nestles the Mermaid's Pool. Legend has it that she can only be seen if you look into the water at sunrise on Easter Sunday – but most orienteers will then be otherwise engaged! The Mermaid would either make immortal or drown any young man to swim in her pool, hence the name of the Fickle Mermaid pub at Chapel en le Frith, that many of you will pass on route to the event.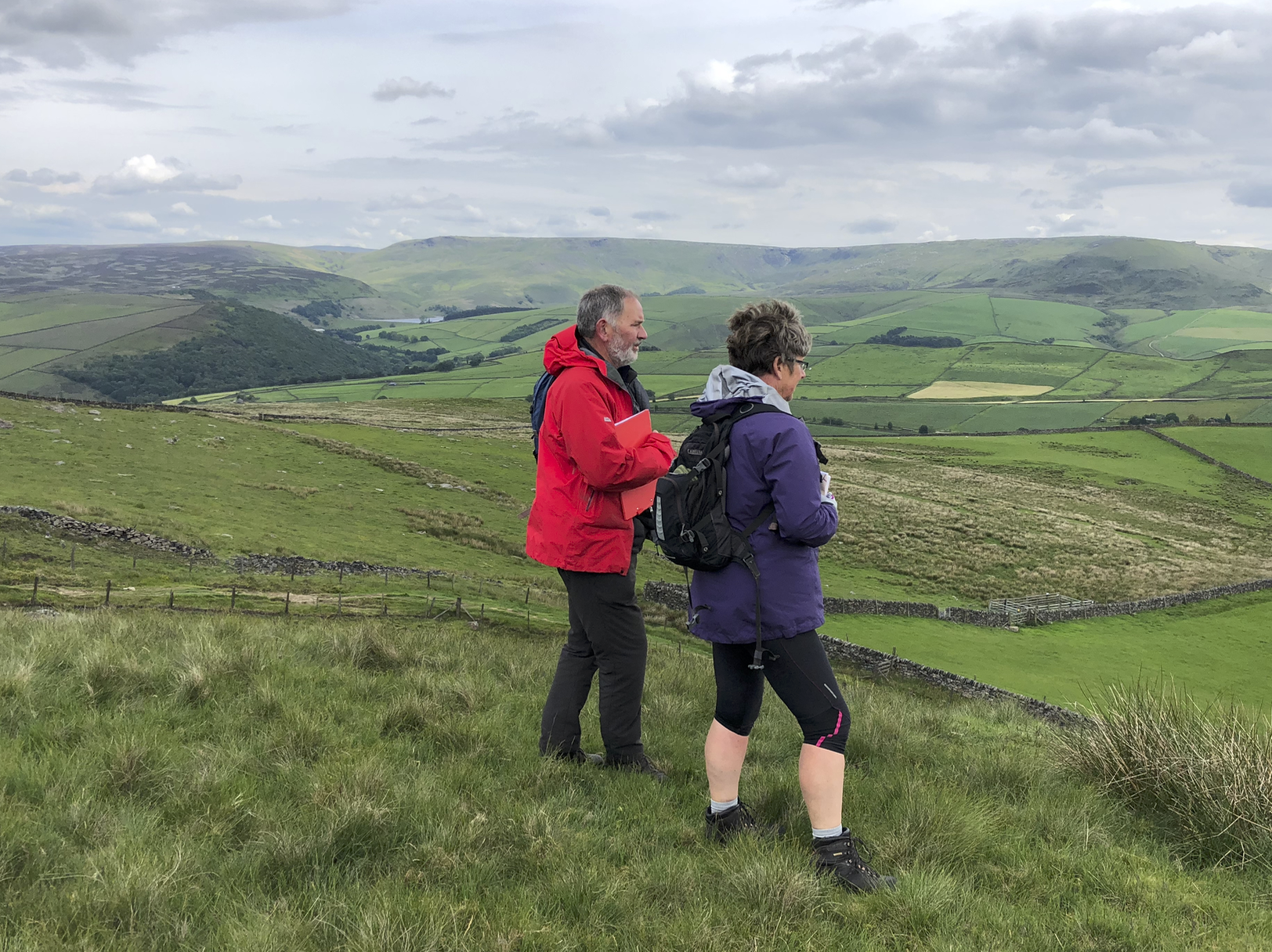 Ranald (our Planner) and Jane (Start Team Leader) survey the view. Kinder Reservoir can just be seen on the left.