Travel and Parking
Car parking is in a field and is strictly for cars only. Campervans, minibuses and helpers should go to the arena vehicle entrance which is via the farm track to Hill Farm. There should be plenty of room but please share transport if you can. The nearest postcode is HP22 5NQ, which should get you slightly north of the car park entrance.
Many competitors will travel to the event via the A41 which is a fast dual carriageway. It bypasses the village of Aston Clinton. To avoid going through the village it is best to exit the A41 at its junction west of Tring. From this junction travel towards Aston Clinton bearing left before the village on the A4009, and then left again (OS Grid Ref SP 887108) signposted Wendover Woods and St Leonards. Do not turn right into Wendover Woods after only about 300m. The entrance to the car park (OS Grid Ref SP 891099) is on the right about 1200m along this road, and the entrance to the arena field (OS Grid Ref SP 891096) is via a farm track 300m further on. Take care on this final narrow and bendy road and especially when turning right into the entrances.
If approaching the event from the south on the A413, it is better to go via Wendover and the A4009 rather than the bendy narrow roads. The junction at SP 887108 is reached and a right turn puts vehicles on the same final 1200m/1500m as described above. If any vehicles do come on the bendy narrow roads from the south, the arena entrance is on the left first and then the car park entrance 300m further on.
Particularly when leaving the event, traffic can build up at the right turn onto the A4009, the right turn onto the road from Aston Clinton, and at the A41 junction itself. Please be patient.
It is possible to get to the event by public transport, but with a final walk of about 2km. Trains go to Aylesbury and then a bus goes every hour to Aston Clinton. Other routes may be possible but if walking/cycling to the event, competitors must not go through any part of Wendover Woods.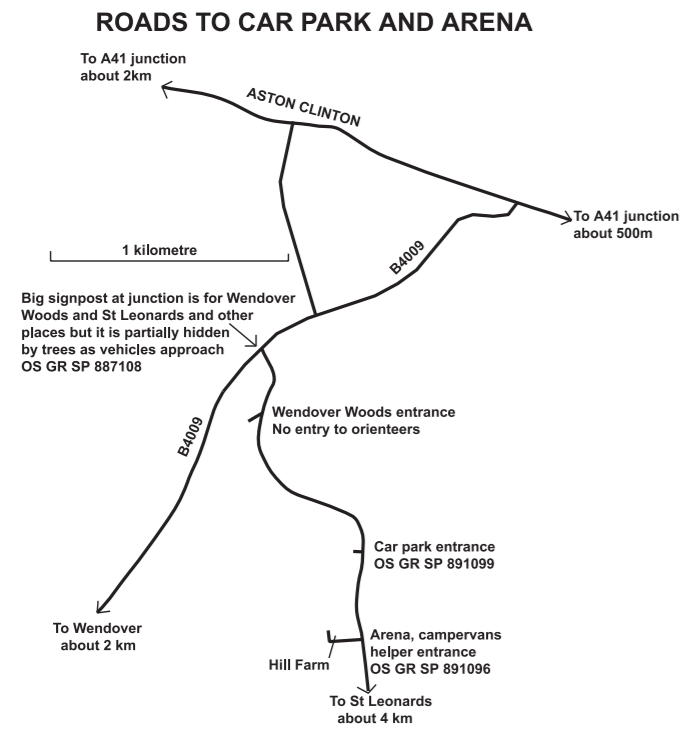 Arena
The arena field is adjacent to the car parking field. There will be the finish, download, general enquiries, EOD for colour coded courses, age class course enquiries, bib collection, toilets, and First Aid in the arena. There is plenty of room for club tents either side of the finish funnel, but very limited competitor shelter for those without club tents. Though attractive in good weather, the fields include the highest point in the Chilterns. In adverse weather the fields are quite exposed.
Commentary in the Arena is by Chris Poole and Andy Monro, with technical support from GP Projects. UltraSport, CompassPoint and British and Continental Catering will be there – please support them.
Animals will have been in the car parking and arena fields over the summer. Competitors should follow basic hygiene precautions such as ensuring that hands are clean before eating food.

Toilets
There are toilets near the arena entrance from the car park, and more toilets further into the arena field nearer to the exit to the starts and near campervan and helper parking. There are no toilets on the route through the woods to the starts so please use those in the arena field.
Dogs
Dogs are allowed on leads in the car park and the arena, but not on any courses and not near the finish funnel or download please. Obviously any mess must be picked up immediately.
Biosecurity
Please come to the event with clean orienteering kit, particularly shoes.
Clothing and Equipment
Full leg and torso cover is compulsory. This means legs should be completely covered. There will be no clothing transfer.
Whistles are strongly advised, but not compulsory unless weather conditions are exceptionally bad. Waterproof tops too could be made compulsory in exceptional conditions. If whistles and/or waterproof tops are made compulsory, there will be notices at the arena entrance from the car park and at the exit from the arena.
Competitors will be checked as they leave the arena for full leg and torso cover. Any refusal to comply will mean disqualification.
GPS Devices and mobile phones
British Orienteering Rules state that "Competitors are permitted to only use a GPS device to record data for use in post-race analysis." Anyone found breaking the rule will be disqualified. Mobile phones may be carried but should only be used in an emergency. Mobile phone coverage in the woods is variable. An emergency number is printed on maps but it should only be used for emergencies and not for any enquiries.
Safety
Competitors are responsible for their own personal safety and for assessing their own abilities to complete their chosen course.
Competitors:
• must not run if unwell and should ensure that proper preparations are undertaken in the event of adverse weather conditions;
• are strongly advised to complete the reverse side of their race number with contact details and relevant medical information;
• should report any concerns about missing competitors to General Enquiries or any Event Official.
Parents and adults in charge of young people under the age of 18 years are responsible for their safety and ensuring that youngsters are fit and clothed for the conditions. They should check that the reverse side of the young person's race number is completed properly. Take great care in car parks and alongside or crossing roads. Lost children should be brought to General Enquiries. Concerns about missing children should be reported to General Enquiries or any Event Official.
Lone travellers are advised to leave their car keys with emergency contact details at General Enquiries (anyone else who wishes to may also use this facility).
First Aid is available at the Arena near the finish provided by M&M Medical Services. A member of the First Aid Team will go out to any injured competitors unable to make their own way to the finish.
The nearest hospital is Stoke Mandeville Hospital, Mandeville Road, Aylesbury, Bucks, HP21 8AL. Telephone: 01296 315000
Cancellation Policy
This event is covered by the standard British Orienteering Major Events Cancellation Policy and Procedure and Cancellation, Curtailment and Refund Policy. Both are available on the British Orienteering website and key points are on the Entries page of the British Middle Distance Championships website.
Timings
0815 Car Park opens
0830 General Enquiries opens
0900 Entry Enquiries opens
0930 EOD open for colour coded courses
1030 First start time
1230 Entry Enquiries and EOD closes
1300 Last start time
1400 Medals and Prizes
1530 General Enquiries closes
General Enquiries
As well as any general enquiries to point people in the right direction, car keys can be left, any trophies can be returned, lost or found can be reported. This should also be the first point of contact for any complaints or protests though complainants are likely to be directed to the organiser.
Race Bibs
New race bibs will be available for all competitors i.e. the bibs used for the British Sprints are not to be used again. There will be DIY race bib collection near General Enquiries. Bibs will be in race number order and lists in surname order will be available for those who do not know their race number. Competitors should complete emergency and medical details on the back of their bib before fastening on their front with safety pins. All competitors must wear a bib which will be checked when competitors leave the arena.
Competitors in M/W 18/20/21 and seeded competitors in other classes have 3 digit numbers. All other competitors have 4 digit numbers.
Late entries
There will be no late entries after 1800 on 27 Sep 17, or at the event for age class courses. Prior to 1800 on 27 Sep 17 late entries may be available. Details are on the Late Entries page of the website here.
Age Class Course Enquiries
This is for the collection of any hired SIAC or SI cards, any requests for changes to entries, or any other queries connected with age class entries. There is no guarantee that changes will be possible, and if they are allowed, there will be a £2 charge for any entry change. Bibs will be marked appropriately. There will be no EOD for age class courses.
EOD for Colour Coded courses
This will be available while there are maps and time slots. There are Orange, Yellow and White courses. Senior cost is £12 and Junior cost is £6. Colour Coded course competitors will be given and must wear a bib in the same way as other competitors.
Terrain
Wendover Woods consists of 2 large spurs in the SW and SE separated by a central valley. The western slope of the SW spur continues northwards and is dominated by a steep slope. The woods consist of typical Chiltern woodland mostly deciduous with some conifer (mostly fast runnable) with occasional conifer plantations (usually fight) especially in the central valley. There are occasional patches of brambles (green vertical stripes) and sapling regeneration (various runnability; mainly ash). These have been mapped in detail where they affect the courses. Courses have been planned to avoid the worst of these bramble patches.
Map
Jim Prowting and Mark Thompson of TVOC have drawn a new map using Bluesky Lidar data. The scale is 1:10000 with a 5m contour interval. The map is drawn using ISOM2000 and the north line spacing is 250m. Map size for the event will be A4, digitally printed on 120gsm Pretex paper. Maps are not bagged. Those who prefer to use a map bag should bring their own.
Competitors can rely on the accurate mapping of dense green vegetation. The boundaries between adjacent grades of runnability may be only indicative. Close green undergrowth hatching denotes barely passable brambles, or windblown forest. Treat wide green hatching as slow run.
Special features on the Map and Mappers' Comments on 'Runnability'
[UPDATED 28 SEP 17]
GREEN CIRCLE: Usually an isolated yew tree, but occasionally a relatively large holly tree, generally smaller than the surrounding mature deciduous forest.
GREEN CROSS: Root stocks over 1m high, symbols often overlapping in windblown areas that are rather impenetrable.
BROWN DOT: Almost always an old root stock over 0.5m high that has had its tree removed many years previously. Marked where the earth knoll is the recognisable and dominant feature rather than the old rotting stump. There is often a small depression immediately adjacent to the root stock and this is not mapped.
BLACK CIRCLE: Exercise or playground equipment.
SOLID GREEN is impenetrable box, holly or rhododendron thicket or 2 large coniferous plantations in the central valley. The minimum thicket dimension for inclusion is 10m.
MEDIUM GREEN is almost impenetrable on the SE spur and central valley sides
CLOSE GREEN HATCHING is almost impenetrable bramble and windblown
WIDE GREEN HATCHING is slow run bramble, bracken or brashings
Control Descriptions
Maps for courses 1-13 have pictorial descriptions printed on the front. Maps for courses 14, 15 and colour coded have pictorial and text control descriptions printed on the front. Loose descriptions will be available in the start lanes. Loose descriptions are pictorial for courses 1-13, and text for courses 14, 15 and colour coded. Control descriptions are 21 cm long for course 1 and 19 cm long for course 3. All other courses are shorter.
Classes and course lengths
Course information as updated on 30 Aug 2017.
| | | | | | | |
| --- | --- | --- | --- | --- | --- | --- |
| Course | M class | W class | Start | Length km | Climb m | Controls |
| 1 | M21 | | East | 5.7 | 240 | 30 |
| 2 | | W21 | East | 4.7 | 190 | 22 |
| 3 | M35/M40 | | East | 5.3 | 185 | 26 |
| 4 | M45/M50 | | East | 5.1 | 170 | 23 |
| 5 | M18/M20/M55 | W35 | West | 4.8 | 130 | 24 |
| 6 | M60 | W40 | West | 4.5 | 135 | 23 |
| 7 | M65 | W45 | West | 4.5 | 95 | 26 |
| 8 | M70 | W18/W20/W50 | West | 4.3 | 120 | 22 |
| 9 | M75/M80/M85 | W55/W60/W65 | West | 3.6 | 85 | 19 |
| 10 | | W70/W75/W80/W85 | West | 2.4 | 75 | 15 |
| 11 | M16 | | West | 4.1 | 120 | 23 |
| 12 | | W16 | West | 3.5 | 75 | 20 |
| 13 | M14 | W14 | West | 2.6 | 80 | 15 |
| 14 | M12 | W12 | West | 1.9 | 95 | 9 |
| 15 | M10 | W10 | West | 1.9 | 80 | 10 |
| Orange | | | West | 1.9 | 95 | 9 |
| Yellow | | | West | 1.9 | 80 | 10 |
| White | | | West | 1.8 | 50 | 11 |
Courses have been planned to include legs appropriate to a middle distance race. In particular they avoid excessive height climb, especially on the older classes. This means all courses run through a rather restricted area towards the end with a large number of mapped knolls. There are many controls in a small space. Ensure you have the correct control number!
Electronic Punching
The SportIdent system will be used for all classes. Normal SI cards or SIACs can be used.
If an SI unit fails to flash and beep, use the backup pin punch to punch somewhere on the edge of the map. SIAC users are requested not to bang their SIAC onto a control unit. There is no need to touch the control unit and it can disadvantage ordinary SI card users even further.
Hired SIACs or SI cards must be returned at download after use. A charge of £30 will be made for lost or non-returned standard SI cards. The charge will be £38 for high capacity cards and £57 for SIAC cards.
Shadowing/Pairs
Shadowing (or competing as a pair) is not permitted on any age class course.
Shadowing (or competing as a pair) is permitted on the White, Yellow and Orange courses.
Persons shadowing may only do so after they have completed their own run.
Old Maps
A map of the area used at a previous event will be on display in the arena.
Start times
Start times are published at https://www.sientries.co.uk/list.php?event_id=3681. Any requests for changes must go to the Entries Secretary. Changes on some courses will be not be possible as they are nearly full. It is most unlikely that a change to a later time will be possible. Any changes accepted will incur a £2 fee.
Seeding
M/W18/20/21 are seeded according to the normal elite seeding rules.
Up to 5 or 10 runners are seeded in M/W 35 plus classes so that the highest seeded runner starts last. To be included in this, entrants must have chosen a late start and be near the top of the ranking list for their class.
M/W 14/16 are seeded using the junior ranking list but not in any particular order.
There is no seeding for M/W 10/12. There are not enough competitors for seeding in M80, M85, W35, W75, W80, W85 classes.
All seeded runners have 3 digit race numbers. Most competitors have 4 digit ones.
The last seeded runners will be starting at approximately the times listed below so that spectators should know roughly when to expect winners to arrive in the arena.
1200 W18, W20
1210 M18, M20
1220 W21, W70
1230 M35, W40
1240 M45, W45, M70, M75, W65
1250 M21, M40, M60, W60
1300 M50, W50, M55, W55, M65
Start Lists
These will be displayed with the Results boards in the Arena. There will be no start lists displayed at the starts.
Route to the starts
The route to the starts leaves the west side of the arena, west of download and enquiries. There will be a clothing, bib and dibber check as competitors leave the arena. There will also be a sample control and unit to check SIAC batteries.
The starts are just over 1500m from this exit point needing 20 minutes of fast walking. Many competitors will need more time than this so please plan accordingly. Start times will not be changed. The routes are easy with little climb or descent and on tracks, paths, and the roadside. The routes to both starts are the same until they split for the last 500m. Care needs to be taken on the routes. There is a section alongside the forest road with traffic coming from behind, forest roads with traffic are crossed, and the route goes near a car parking area where vehicles could be moving. Officially there is a 15 mph speed limit on the roads, but it is not always obeyed. Permanent signs and speed humps on the road, and our own temporary signs warn of the dangers. Parents should make suitable arrangements for children.
Starts
There are two starts – the correct one will be indicated on bibs. The east start is for courses 1-4. The west start is for courses 5-15 and colour coded.
All competitors have a timed start except for helpers, parents with split starts, and colour coded. Start times will not be changed at the starts.
Start procedures
• Call up will be 4 minutes before allocated start times. SI cards and SIACs will be cleared and checked after call up in the first box. There will also be final safety instructions in this box for competitors to read.
• Loose control descriptions will be in the next box 3 minutes before starting.
• Blank maps will be available in the box 2 minutes before starting.
• Another SI card/SIAC check will be made as competitors enter the box 1 minute before starting. As far as possible there will be no instructions from officials and all are asked to keep quiet so that competitors can concentrate.
• Competitors may step over the start line 10 seconds before their start time, but must not start until they hear the long beep from the start clock. There is no punching at the start for most competitors.
• Competitors must take the map partially pulled out of the bag for them. They should check that it is the correct map for their course.
• The start kite will be visible from the west start. From the east start, tapes must be followed to the start kite.
Late Starters
Start times will not be changed. There will be a late start lane to the right of the main start lane.
Anyone arriving late for their start must report to a start official. If less than 3 minutes late, the start official may allow late competitors into the normal start lane in the correct place. Normal clears and checks must still be done. If more than 3 minutes late or going into the normal start lanes is not possible, late starters will have to use the late start lane. The start officials will decide on a time for starting which will be as soon as possible, but not within 30 seconds (60 seconds for seeded competitors) of another runner starting on the same course. Start times will not be changed, but late starters will be required to record their actual start time by punching in a start box.
Parents with Split Starts and Helpers with Open Starts
These competitors must report to start officials and must use the late start lane to the right of the main start lane. Start officials will allocate a start time. Clear and checks are done as for normal starters. A start official will get control descriptions if they are needed. A punching start will be necessary using an SI box held by an official.
Colour Coded Starters
Colour coded competitors will have their own start lane to the right of the late start lane at the west start. Pre-entries will have a start time allocated and will be called up at the appropriate time, but they will still have a punching start. Maps for all colour coded courses will be available once competitors are in the start lane. These maps must not be seen by any other competitors. Any accompanying adults must either have competed already or not be competing. Colour coded competitors entering on the day will have open starts and will be allocated to the next available colour coded start time by the start officials. There will be some restrictions on colour coded start times and competitors may have to wait a few minutes to start.
Taped route on courses 15, Yellow and White
The White course has a taped route for the whole distance between controls 1 and 2. Course 15 and the Yellow courses have a taped route starting at control 1 and extending for part of the distance to control 2. Red and white tape pieces will mark the routes.
Road Crossings
A forest road with one way traffic runs through the competition area. All competitors cross this road going to the starts. Courses 1, 3 and 4 cross this road twice early on their course. All competitors cross the road later on their courses. For courses 11 – 15 and the colour coded courses, the crossing is timed out and will be controlled by officials. Competitors will be allowed 1 minute to cross the road. Other older competitors on courses 1 – 10 will cross the same road though not in quite the same place. They will not have a timed out crossing but must be aware that cars are likely on the road. Cars should travel one way (roughly north to south) and should not exceed 15 mph but this cannot be guaranteed.
Other dangers on the courses
Paths can be very slippery if wet especially if they expose the underlying chalk. There is a 2m high vertical wall in the middle part of the map on the western side, this is marked with yellow-black tape and courses have been planned to avoid this hazard. Some slopes are steep and can be slippery. There is some building work going on in a clearly marked area. It is marked as OOB on maps. Competitors should not go into this area and it is no advantage to do so.
Other users in the Woods
The woods could be busy with other users. Cars travel along the road in one direction and most park in the central area. Visitors on foot tend to stay near the central area but some will wander further away. Cyclists and horse riders also use the area. We have tried to warn other users of our presence in the woods but cannot guarantee that all will be aware. Please look out for fast moving cyclists in particular, and don't assume that they will always be travelling the correct way along the one way forest road. Please try not to surprise horses and their riders – you should hear them before you see them. Dogs too could be a hazard although most seem to be kept under control.
Safety bearing
If lost, competitors in most of the area should head east and north on forest roads and paths, and they should keep following them. Eventually they should end up on the main tarmac access road, at the central area of Wendover with its café and toilet facilities, or at the road crossing. Only in the most northerly part of the area should lost competitors head east rather than north, and possibly off tracks, so that they end up on the main tarmac access road.
Finish
The finish is in the arena. Competitors will run to the finish through a funnel in the field from their last control in the woods. All competitors must download even if they do not complete their course. There is no water at the finish or on the courses.
Map collection
Maps will not be collected at the finish. Competitors who have finished are being trusted not to show maps to others, and those yet to compete are being trusted not to try to look at a map prior to competing. Anyone found looking at a competition map in the arena where it is not obvious that they have already competed should expect to be challenged by an official. Any evidence of trying to look at a map or showing others a map will result in disqualification.
Complaints and Protests
Competitors should initially discuss any concerns they have with the Organiser, Planner or Controller, depending on the circumstances. If that does not resolve the issue, a written complaint should made on a complaint/protest form available from General Enquiries. This should be as soon as possible after the problem has been identified and in any case no later than 14:30. The Organiser will provide a written decision on the complaint. A written protest can be made to the Controller against the Organiser's decision who will, if necessary, convene the Jury.
Prizes and medals
There are medals for first, second and third in age classes M/W 10 to M/W 80, and medals for first in M/W 85. There are additional voucher prizes for first, second and third on the M/W 21 courses and M/W 18/20 courses. Prizes and medals will be given out as soon as possible after 1400.
String course and maze
These activities are free and will be in the arena field. They will be run by the South Central Junior Squad. The string course has a woodland animals theme and the maze (fun for all ages!) has SI timing. Each completion of a junior activity will qualify for entry into a draw for 2 free passes for Wendover Go Ape. There will also be discount vouchers available for Wendover Go Ape.
(PLEASE NOTE: Free passes and discount vouchers will be valid until end of 2017. Wendover Go Ape require that any under 16 year old is supervised by an adult (18+), is at least 10 years old on the day, and is at least 1.4 metres tall (including shoes).
Photography
Steve Rush and Robert Lines are our official photographers taking pictures at the event, including in the competition area. To avoid photographs of juniors or at-risk adults being published please email the relevant name and bib number to the Organiser before the event.
Any person wishing to take photos or video showing children should register their details with the Organiser (contactable via General Enquiries) before taking any such photos or videos. The Organiser reserves the right to ask people to refrain from taking photos or video. Photographers should read and comply with section 4.8 of British Orienteering's O Safe Policy. It can be found on the British Orienteering website.
Officials
Planners Mark Thompson and Peter Riches (TVOC)
Organiser Mike Cope (CLARO) assisted by Freya Askham (SMOC)
Controller Hedley Calderbank (HH) assisted by Roger Moulding (HH)
Jury members 3 from Dick Towler (LOC), Philip Gristwood (MV), Richard Payne (EPOC), Tony Carlyle (AIRE), Chris Burden (AIRE).
Contacts
Organiser: organiser2017@britishmiddlechamps.org.uk
Entries: entries2017@britishmiddlechamps.org.uk
Acknowledgements
Bill and Jill Ronson of Hill Farm for allowing us to use their fields for the arena and parking.
Forestry Commission for allowing us to use the woods and particularly to Jo Mason, Rob Bell, and Jill Mead.
Thames Valley Orienteering Club for allowing us to use one of their areas, as well as supplying many officials and helpers.
Map advisor Mike Elliott for his help manipulating the Lidar map files early on and to Bluesky (www.blueskymapshop.com) for a substantial discount off the price of the Lidar).
All the orienteers from many clubs who have worked together to put this event on.